Sales Portal for Insurance Agents
This case study describes our engagement with an independent local insurance company in Slovakia. The focus of the insurance since its establishment is on selected corporate clients and premium individual customers, offering a wide range of all-risk property insurance policies.
Netgrif started to partner with the insurance on a small project without specific technical requirements in place. Instead, we started with the client's idea and provided a prototype based on our best practices and experience. The result – interactive, online insurance fee calculator – was immediately a success and led to the months-long engagement, delivering automation covering the customer journey from prospecting phase to sales closure. 
All delivered digital processes were integrated into the sales portal, allowing agents and brokers to participate in the sales process together with internal employees. Applications are web-based, responsive and mobile-ready.
Customer management system
Contract lifecycle support system
Key functional aspects of the solution:
Insurance premium calculator:
automated valuation of buildings and households based on location, 

ability to change non-technical parameters which do not influence insurance company,
management of coupons and discounts (including time validation, volume discounts or type of discount)
real-time updates of final premium calculation based on input provided.
Customer management system:
groups of related sellers and policyholders with access to policies belonging only to a specific group of customers,

document management allowing versioning and grouping of relevant corresponding general terms and conditions, policy, offers, marketing materials per policy or policyholder,
automated generation of PDF with offer or contract,
e-mail distribution of contacts or offers.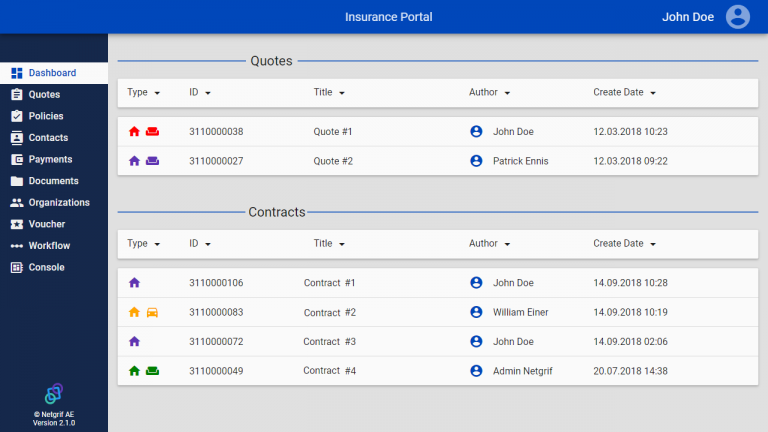 Contract lifecycle support system – from proposal to contract:
a structured and logical guide through proposal steps – from general information, insured items, additional risk coverage, pricing and summary,

awareness of relationships between items that influence final premium calculation,
versioning – all documents valid at the time of policy activations kept always together,
payments assignment,
automated expiration of policies without payment due.
External integrations:
web services for connection to insurance pricing comparison portal,

custom integration with Slovak Insurers Bureau for Compulsory MTPL product.
The insurance benefits from complete client visibility can offer highly personalized offerings to up-sell or cross-sell products, provide quick and relevant advice or support through different channels. The solution implemented on Netgrif platform enables quick adoption of new ideas or changes in products, offerings or ways how clients interact with the insurance.